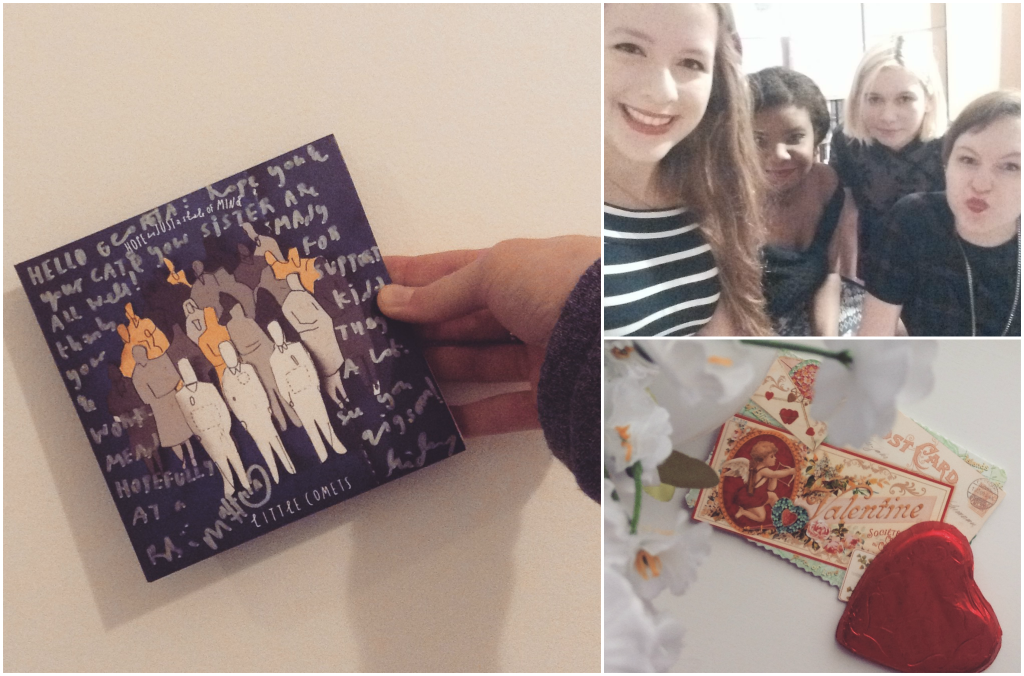 Good evening! I hope your Wednesday has been treating you well and that for all you high school/college students that your half term is relaxing! This week, I have had Lucy Rose on repeat and even went out in Leeds on Valentines day with some of my friends, which was... umm... eventful...
...What has been wonderful this Wednesday
♥
On Thursday evening I came home to two very exciting packages! One being an absolutely beautiful handwritten letter from my dear friend Hayley Solano as well as a scrumptious chocolate heart from one of her favourite shops. Let's just say that it brought quite a few tears to my eyes, and it was so unexpected - thank you ever so much to Hayley, if you're reading this! The second package to arrive at my house was Little Comets' album 'Hope is Just a State of Mind' and the message was again so unexpected and it was so lovely of Rob [heart beats about a million times faster] and the fact that I could read his [amazing] handwriting felt an achievement, haha!
♥

The amount of support I have received from my previous post (which you can read below) is overwhelming and It has made me feel so proud of myself for finally writing it all out and eventually hitting that bright, orange 'Publish' button.
♥

This weekend, Ella and I are going down to Nottingham to visit Jake for the weekend. I am also meeting up with TORI! I am beyond fangirling right now. I just cannot wait to see this lovely bean again soon. Also, Jake is incredibly lovely of letting Ella and I stay over at his, and it will be just so nice to spend time with him.
♥

I bought myself some disposable cameras on Tuesday to use when in Nottingham, and for when I see Little Comets in March. I can't wait to hopefully show you the results when I get the films developed and it'll be great for keep-sakes, also.